| | |
| --- | --- |
| | DCS Equipment |
All DCS equipment is interfaced to the ECS. The generic architecture is the following: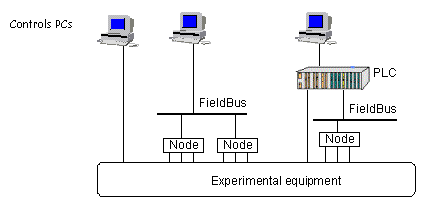 High & Low Voltages, Temperatures, etc.
On an aim for standardisation the following guidelines have been adopted:
Commercial equipment should be used as much as possible.

The HW interface to the equipment should be one of the CERN recommended fieldbuses:CANbus or Ethernet (preferable).

The SW interface to the equipment, when available, is an OPC UA server, preferably delivered by the HW manufacturer or CERN. WinCC-OA provides an OPC UA Client.

If the equipment manufacturer does not provide an OPC Server, the equipment can still be interfaced to WinCC-OA by writing a DIM server. A PVSS DIM client is also available.
Special equipment will be studied on a case-by-case basis. Please contact us!
Recommended components (and migration to OPC UA):
The recommended platform for OPC-UA servers is Linux.
- For Ethernet based devices the OPC UA Server can run in the same (virtual) machine as the WinCC-OA project.
- For CANbus devices the OPC server runs on a CCPC box that needs to be migrated to Linux (or better a spare one setup).

The recommended version of WinCC-OA is 3.16
The latest versions of the JCOP FW and FwInstallation tool are recommended.

CAEN high voltage power supplies

ISEG power supplies

WIENER low voltage supplies

ELMB for analogue and digital I/O
This page last edited by CG on February 21, 2007.