The control systems of the four LHC experiments have been developed in common within the Joint COntrols Project (JCOP).
---
LHCb's Experiment Control System is in charge of the configuration, control and monitoring of all the components of the online system. This includes all devices in the areas of: data acquisition, detector control (ex slow controls), trigger, timing and the interaction with the outside world.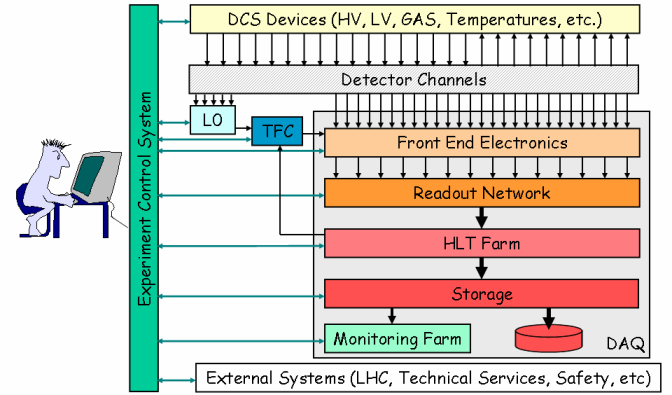 Framework
The central ECS team provides a framework to the sub-detectors groups which need to configure and develop the specific control functions for their sub-detector. The control framework is based on a SCADA (Supervisory Control and Data Acquisition) system called WinCC-OA (Ex PVSS II) and it will have to be interfaced to all experimental equipment.
Sub-Detector/Sub-System Integration
Recommended Components and Interfaces
Program of work & activities
People
Presentations at LHCb meetings:
Other presentations:
Controls Related Information:
Information on controls for other experiments at LHC
Documentation and Presentations before 2000
This page last edited by CG on January 30, 2019.